Plan an unforgettable field trip!
Explore space at one of our planetarium shows, ride the train, and end with a picnic lunch.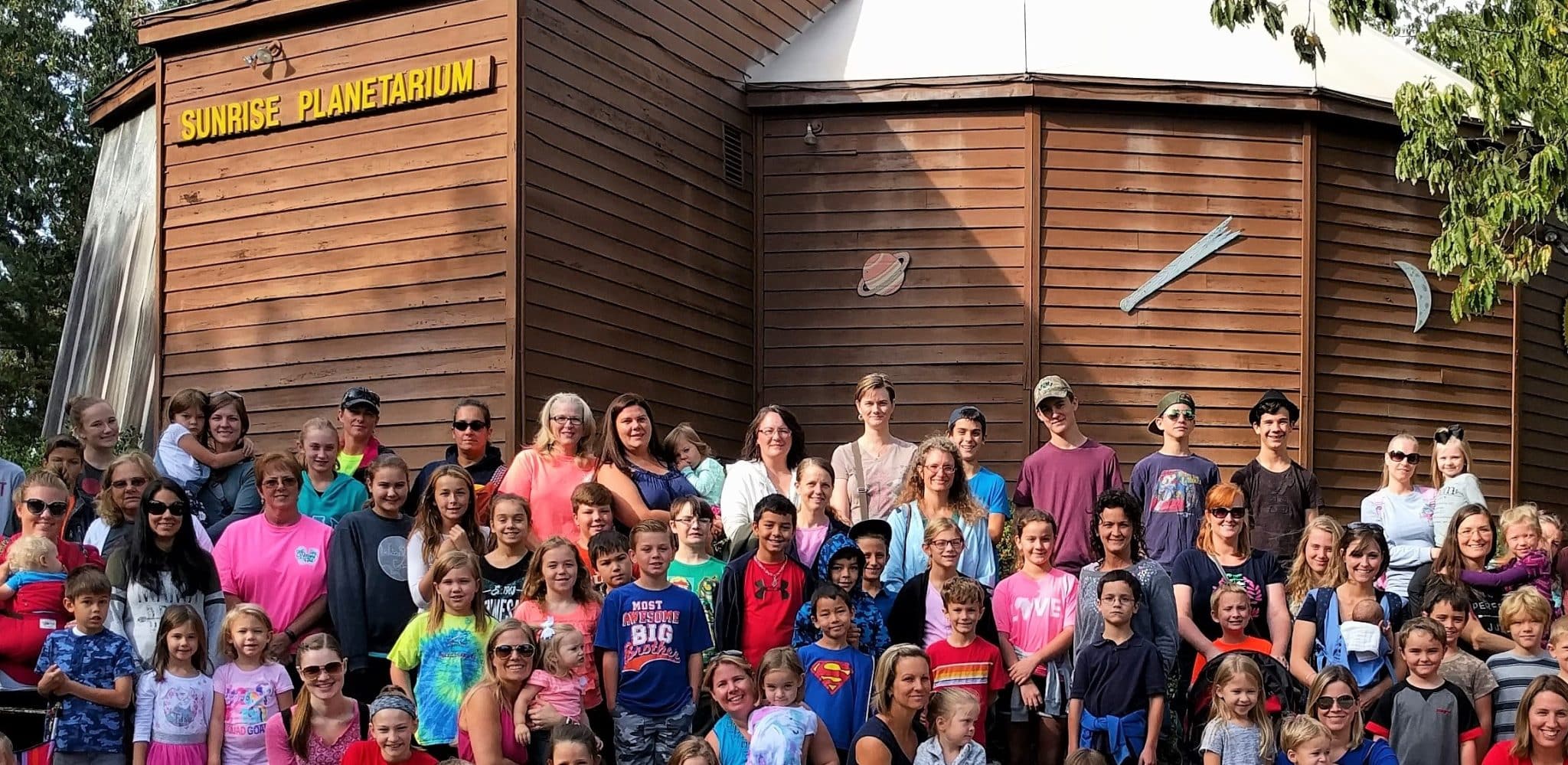 Shows
Choose from several 30-minute shows, depending on your class's age range. Each show also includes a demonstration and brief Q&A at the end.
Train Ride
This 30-45 minute trip takes you through Quartz Canyon, into a snow tunnel, past our roundhouse, and more. Each ride includes a presentation of the gospel: the good news of salvation through Jesus Christ.
Lunch
Bring your own picnic lunches and eat at our outdoor pavilion.
We recommend you allow 2.5 to 3 hours for your field trip.
Total Length of Trip: 2.5 - 3 hours
Planetarium Shows: 45 minutes each (includes demonstration and Q&A)
Train Ride: 45 minutes
Lunch: 30 minutes
At least one adult is required for every 15 children.
Groups must have a minimum of 15 people, and a maximum of 100 people.
Bring your own picnic lunch, and enjoy it at our picnic pavilion! A large charcoal grill, serving table, and seating for 80 are all available here.
We recommend a $5 donation per person.
When your group arrives, you can drive straight to the planetarium parking lot. Staff will be in the parking lot or planetarium lobby to meet you and give instructions about what to do next.
Purchase a variety of meteorites, rocks, fossils, and Sunrise memorabilia. Many items are available for under $10, perfect for school groups.
Restrooms
Handicap accessible restrooms are available at our train depot, but are not yet available in the planetarium.
Theater Seating
A limited number of spots are available for anyone using a wheelchair, along with their attendant. Please reserve this seating in advance to ensure you have a spot.
Railroad Rides
Our caboose is specially designed for wheelchairs! Spots are limited, so please call to reserve a seat in advance. Seating for an attendant is reserved next to each wheelchair space.
Ready to Schedule?
Be ready with the number of students and chaperones attending and one or two days when you are able to come. (We're available Monday - Saturday, 10am-4pm).
Day-Of Field Trip Reminders
Arrival
When you arrive, you can park in the planetarium parking lot. Staff will be available in the parking lot or lobby to give your group instructions.
Lunch
If you're bringing lunch, just collect lunches in a box and drop them off with any staff member. Lunches will be delivered to the picnic pavilion so you don't have to keep track of them. Or, each student can bring their own lunch to the pavilion.